If you are sick of boredom and want to kill time die hardly then you can join the world of candy crush saga. Contrary to its name, it not a kiddo kind of game but can suit every genre of people. Candy crush saga in one word is a pure addiction (from my own experience).
What is it about?
It is a simple game in which you have to crush similar colored candies with a definite number of moves to score as many points as you can. Three candies of similar colors when put together get crushed and after you fulfill all the defined limits you'll get the ultimate satisfaction LEVEL COMPLETE.
Every level has some different shapes and challenges, the best thing about the game is it is not hard enough that only a certain age group could play and it is not simple enough either that you could complete the game in one go. The music is pretty cute, yes cute I couldn't get a better word for it like many other games it doesn't annoy you and put you in a situation to turn off the music it is light and supportive I should say.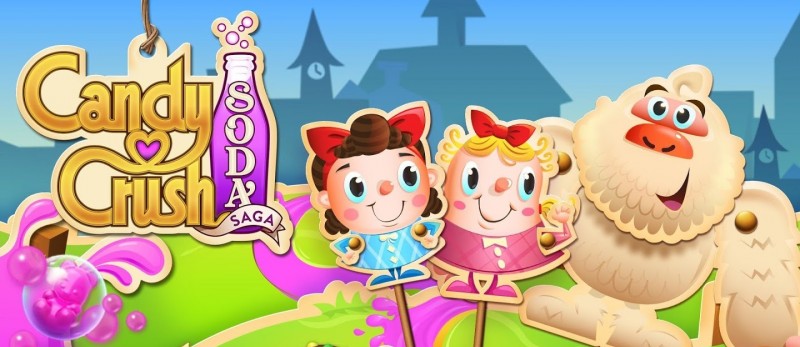 The game is not as sweet as it seems to be, the most annoying element of the game is here, the LIVES, you get five lives in the beginning. The lives recover at the rate of one life per hour which is the annoying part you have to wait for the time being to continue the game, however people who have already faced this deadly situation have created solutions like you can change the time of your mobile phones and increase it by say one or two hours to save yourself from the wait.
Why are you playing the game, you'll have absolutely no idea, why are you crushing candies you'll have no idea again but one thing is for sure that it will excite you and challenge you at its level so that you'll play it more often.
Don't you worry about the levels of the game; there is maximum possible no. of levels which you cannot complete in a single day no matter how strong gamer you are. Also, strategies are not meant for this game, no cheat codes, just a casual fun game.
CONS
Some levels are far too easy and some are hard and yes this easiness and hardness of the level is random, the game is unpredictable, level 37 can be easier than level 19.
At one point of time you'll feel that it's a waste of time and money too but then it's all up to you.
There is little or no strategy. The levels have a repetitive approach.
PROS
The game is well suited for people of all age group, all genre, does not demand a concentrated mind, just go with the flow and you'll soon start liking it like anything.
The game is easy to play, does not require any hard and fast rules and is quite addicting (this might be a con too).
The lives thing in whole is a great burden for the game, everything moves smoothly until you require new lives, either beg or pay, choice is yours.
Not only this, you can also beg lives from your Facebook friends, once you'll start playing candy crush you'll not get irritated seeing candy crush requests by other people. So if you are seeking for some not so difficult yet interesting game, just give it a try. Keeping aside all its cons just remember it is that game which is quite popular nowadays so don't wait and join the league.
FINAL REVIEW
Candy crush saga is sweet game and the name is well suited, be it it's ease to play, it's music, downloading, space it occupy, etc etc it is a perfect and cute game for every type of people, but it can suck all your time and money, if you get carried away. I personally recommend you this game if you are very bore and very free, like in a vacation or something, this game proves to be a great time killer but yes choose the money options wisely is all one can advise.
You can download Candy Crush Saga APK from the links provided below.
Download Candy Crush Saga from Play Store
Download Candy Crush Saga 1.50.0 APK
Download Candy Crush Saga
Interface - 8.7
Game Play - 9
8.9
A simple game with hundreds of levels. Crush the candies, score points and progress to new levels.