The never-ending Samsung and HTC war is what makes the Android market exciting and the users satiated. It seems like the Oscars red carpet to me; they come up with things that leave us all appalled. The much awaited Samsung Galaxy siblings are to be released this March and we are here do drop all what has been added to the masterpieces.
Design
HTC takes the lead whenever it's the design, but this time it was hard to get easy upon Samsung's new metal design. The metal carved in a quintessential shape makes it stand out of the crowd. HTC One M9 has a dimension of 144.6 x 69.7 x 9.6 mm and a weight of 157g. While Samsung Galaxy S6 has a dimension of 143.4 x 70.5 x 6.8 mm and a weight of 157 g. HTC ofcourse is more occupied and reliable when it comes to the design.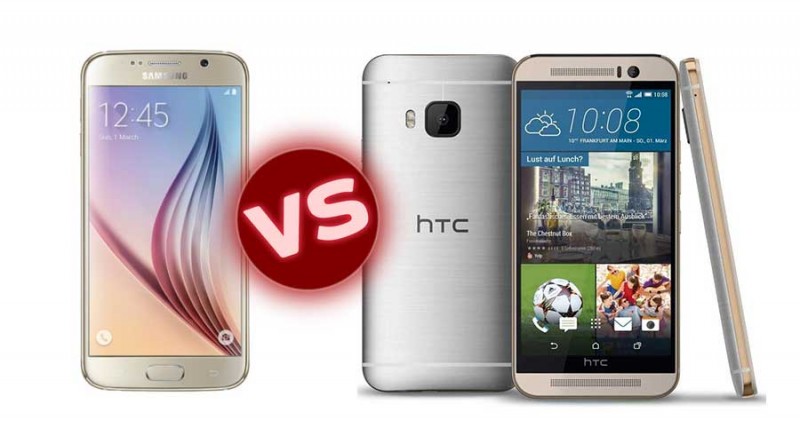 Display
We all have our strength, Samsung has its display. With a Super Amoled capacitive type of touchscreen, a screen size of 5.1 inch and a resolution of 1440 x 2560 pixels it would be a paradox to compare it and call it the second Keller. While M9 is no less and comes with screen size of 5 inches and resolution of 1080 x 1920 pixels. While Samsung adorns itself with corning gorrila glass 4, HTC adorns itself with HTC Sense UI 7.0.
Hardware and Software
What's inside is what takes you up and these high ends have just way too much. While Samsung S6 has an Android OS 5.0.2 (lollipop) HTC M9 has an Android 5.0.x (lollipop). Samsung has a Exynos 7420, Quadcore 1.5 Ghz cortex A 53 and quad-core 2.1 Ghz cortex A57 processor and a Mali-T760 GPU while HTC has a Snapdragon 810, Quadcore 1.5 Ghz cortex A53 and a Quadcore 2Ghz cortex A57 processor and Adreno 430 GPU. Both the warriors have 3 GB of RAM.
Samsung has an internal memory of 32/64/128 GB while HTC has a 32 GB internal memory and that can be expanded upto 128 GB using microSD. Well the software and hardware is great on both the devices but Samsung takes a mite leap somewhere while HTC becomes the close second.
Samsung has a non removable 2550 mAh battery while HTM M9 holds 2840 mAh non removable battery.
Camera
A phone without a good camera is a body without heart : awfully dead. Well the mavericks we have today are the Justin Timberlake of android, terribly good.
HTC M9 has a jaw dropping camera of 20.7 MP with 5376 x 3752 pixels with autofocus, dual led and a secondary camera of 4MP with 1080 pixels.
Samsung on the other hand has a 16 MP front camera with a resolution of 2988x 5312 pixels and has optical image stabilisation, autofocus and led flash. Galaxy S6 empowers a secondary camera of 5MP and 1080 pixels. HTC ofcourse takes the spot light in this section.
Final verdict
Raising fingers on the king always gets your finger cut. Well the kings we have today are both the best in their kingdom. While Samsung has a great software and addons, HTC kills it with display and camera. In all I found HTC serving as better option among these rest depends on your tastes and choices.