We have picked top 3 Android phones based on their performance and have titled them as the "Best Performing Android Phones" for this month. These phones have one of the best hardware specifications and have the fastest Android experience. If you love the speed then you will love to have these Android phones. When it comes to performance, the first thing that comes in my mind is "Pure Android devices". Pure Android devices are those phones that comes pre-loaded with the pure stock android ROM without any unnecessary bloatwares. These devices keep the user experience very simple and snappy. So you can now predict that Moto X 2014 and Nexus 6 are definitely included in this list. But what about the other phone that has managed to get its place in our "Best Performing Android Phones" list? To know this, let's begin our journey.
MOTOROLA NEXUS 6
Display: Nexus 6 is the latest Google flagship device from Motorola. It features a big 5.96 inches AMOLED display which is capable of rendering 1440 x 2560 pixels. This beautiful display has been protected with the latest Corning Gorilla Glass 3 technology. Last year's Nexus device has IPS display, which produces real colors but are not as bright as AMOLED display, so AMOLED display is a big welcomed change in Nexus 6.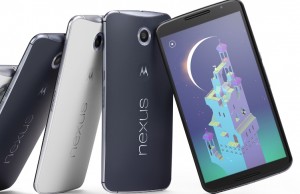 Design: Motorola Nexus 6 is not a single hand operating phone like its predecessors. As the phone holds a huge 5.96 inches display, we can predict that the phone itself will be huge. But instead of having huge dimensions of 159.3 x 83 x 10.1 mm, the phone sits quite comfortably in hands due to its curvy design at the back. The phone weighs 184 grams, which is expected for such a huge device.
Camera: As always, Nexus phones do not perform well in this section and the same goes here. In general, the camera performs well but as compared to other flagship devices the image quality is below average. Nexus 6 has a 13MP primary camera with dual-LED flash which is in the form of a ring. The secondary camera of the phone is 2MP.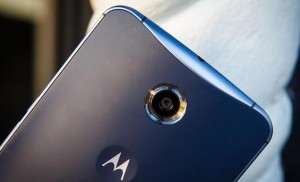 Software and Hardware: This is the section where Nexus 6 got the lead over other Android phones. The phone comes with Android 5.0 Lollipop out of the box, which most of the phone does not have till now. Although Moto X 2014 pure edition has just got this update, other flagship devices are still starving for Android Lollipop.
Nexus 6 is powered by the latest Snapdragon 805 chipset and has Quad-core 2.7 GHz Krait 450 processor along with a powerful Adreno 420 GPU. It has 3 GB of RAM and comes in 2 memory variants, i.e. 32GB and 64GB. It is good to see that there is a minimum of 32GB available in Nexus 6 as compared to 16GB in previous Nexus devices. Let me remind you that Nexus devices do not support memory expansion via external memory card.
MOTOROLA MOTO X 2014
Display: Moto X 2014 is a major upgrade over the original Moto X 2013. Moto X 2014 (Moto X from now on) has integrated a 5.2 inches AMOLED display with a resolution of 1080 x 1920 pixels. The display is very bright and crisp. Moto X can be said to be a variant of Nexus 6, as both the devices has almost similar design expect for the size and hardware specs. The 5.2 inch display is protected by Corning Gorilla Glass 3.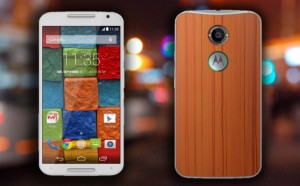 Design: Motorola Moto X has a similar design like Nexus 6, instead we can say that Nexus 6 has a similar deign like Moto X, as Moto X was released before Nexus 6. The phone has the dimensions of 140.8 x 72.4 x 10 mm and weighs 144 grams. The rim of the phone is metallic; therefore it gives a very firm grip while using the phone. The phone now holds a bigger "M" dimple at the back for finger rest, and trust me this one is a better fit for the finger than the smaller dimple of the 2013 model.
Camera: Moto X has a 13 MP camera and is quite better than the previous model due to high numbers and a dual LED flash in ring form. The camera is capable of capturing a snapshot with a resolution of 4128 x 3096 pixels. Moto X 13MP camera also supports 4k videos and SloMo. The front facing camera is 2MP which is better than below average in its performance.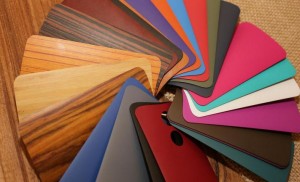 Software and Hardware: Moto X has kept an edge with the Google Flagship Android devices in terms of software. You will be amazed that Moto X has got the Android 5.0 Lollipop update even before few Nexus devices. This is possible because Motorola has kept the things simple and sweet with no bloat wares in the phone. This also helped to get the smooth experience that we can only experience in Nexus devices.
I recently moved from Nexus to Moto X, and to be honest there is no difference between Nexus devices and Moto X, I can feel the same swiftness in the performance. In addition, Moto X has an edge over Nexus devices in terms of Moto display and Moto voice.
Moto X has Snapdragon 801 Quad-core 2.5 GHz processor and an Adreno 330 GPU. It is powered by 2 GB of RAM and comes in 16 GB and 32 GB memory variants. Like Nexus phones, Moto X also has no support for external memory for expansion. The only disappointment is battery, which is only 2300 mAh, but don't judge the battery with its numbers. I am able to get whole day with this smaller battery with normal usage.
SAMSUNG GALAXY NOTE 4
Display: Galaxy Note 4 has one of the best and the finest display available till date. It has a 5.7 inches Super AMOLED display with a resolution of 1440 x 2560 pixels. The screen has the latest Corning Gorilla Glass 3 protection. The screen has the pixel density of 515 PPI which make the display very vivid and crisp.
Design: You might not be happy with the dimensions of Note 4(153.5 x 78.6 x 8.5 mm) as it is huge device and it is impossible to handle it with one hand but still Samsung has done great work in its design. The device weighs 176 grams and has an S pen stylus. Galaxy note 4 now also features a fingerprint sensor which is PayPal certified. Like Moto X, Note 4 also has a metal frame which provides a premium look. It features leather back similar to Note 3, which is a warm welcome by the Samsung users. Overall the device is a nice upgrade over its predecessors in terms of design and quality.
Camera: Samsung has always been great in camera section in their flagship devices. Galaxy Note 4 has a powerful 16 MP primary camera with optical image stabilization which is capable of shooting images at a very high resolution of 5312 x 2988 pixels. This phone has a far better camera than Nexus 6 and Moto X, so if you love to capture pictures with your mobile phone, then this phone is surely for you. The secondary camera is 3.7 MP which is great for selfies and high quality video chats.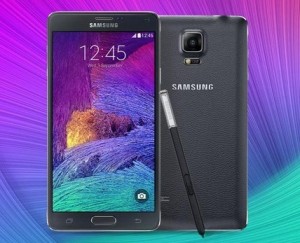 Software and Hardware: Samsung Galaxy Note 4 has the latest hardware specifications packed in it. It has Snapdragon 805 Quad-core 2.7 GHz processor with Adreno 420 GPU. It has 3 GB of RAM with 32 GB internal storage which can be expanded upto 128 GB via microSD card.
Galaxy Note 4 is fully loaded with latest and the most powerful CPU and GPU but it lacks the latest Android OS (till writing of this article). Currently, it runs on Android 4.4.4 Kitkat, but it is confirmed that the device will soon get the taste of Android 5.0 Lollipop. But as Samsung overload the firmware with their TouchWiz and other bloatwares, the users will not be able to experience the smoothness and the awesomeness of Android 5.0 Lollipop in Note 4.
*** Please note that we have not added Samsung Galaxy S6, S6 Edge and HTC One M9, as they are not available to public as of now in large. We will include them in next month.